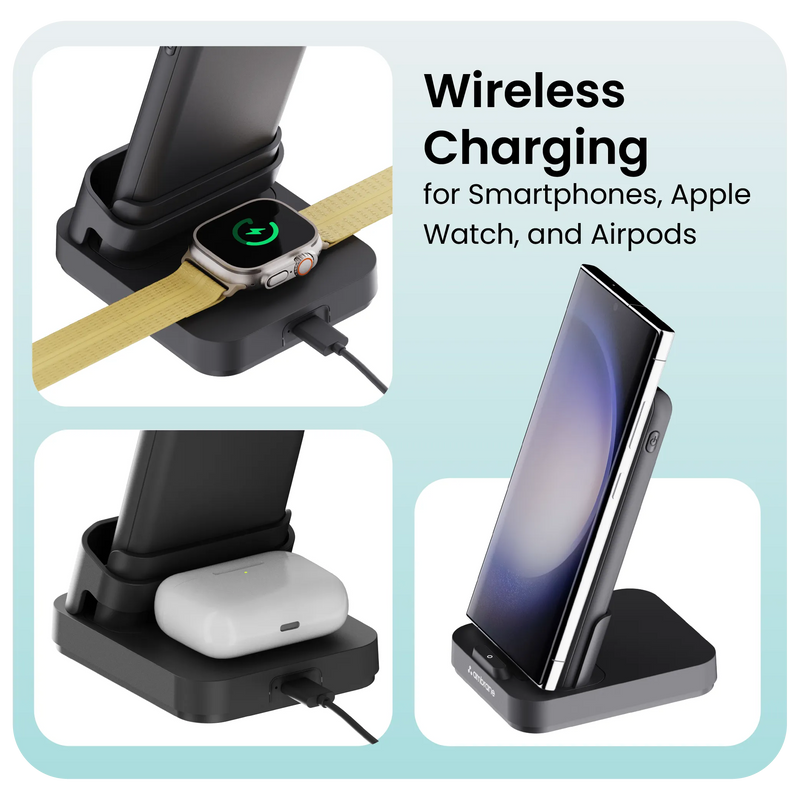 Multi-Device Wireless Charging
AeroSync Quad offers wireless charging convenience for smartphones, Apple Watch, and AirPods, ensuring a tangle-free power-up experience for your essential devices. 
Versatile Wired Powerbank
Seamlessly transitioning into a wired powerbank when wireless isn't an option, AeroSync Quad provides versatile charging capabilities for all your devices, ensuring reliable power on the move. 
Smart LED Indicators
Stay updated on your charging progress with AeroSync Quad's intelligent LED indicators, offering real-time insights into the powerbank's usage and charging status. 
Functional Mobile Stand
Beyond charging, AeroSync Quad doubles up as a practical mobile stand, allowing easy access to your devices while they charge, enhancing your convenience.  
Advanced Chipset Protection
Count on AeroSync Quad's multi-layered chipset protection to shield your devices from electrical hazards, ensuring a secure and safe charging environment. 
Portable Design 
Designed for portability, AeroSync Quad's compact form factor makes it a travel-friendly power solution, ensuring you have reliable power wherever you go. 
Wide Compatibility
Enjoy wide-ranging compatibility with AeroSync Quad, catering to iPhones, smartphones, Apple Watch, and AirPods, making it a versatile charging hub for your entire tech collection. 
Dual Output Port Flexibility
With dual output ports- USB-A and Type-C, AeroSync Quad offers flexibility in charging multiple devices simultaneously, accommodating various port requirements effortlessly.