Skip to content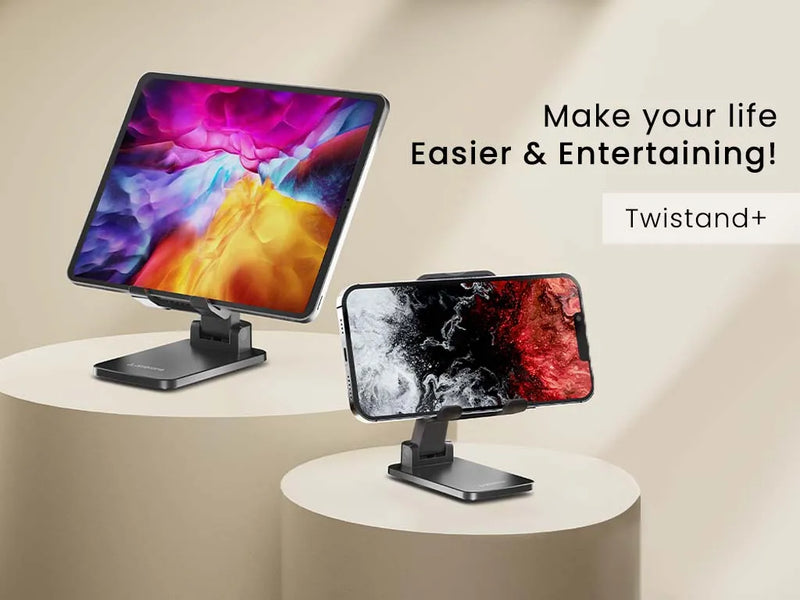 Charging-Friendly Design
The Ambrane TwiStand+ features a charging-friendly design, allowing you to conveniently charge your phone while it's securely held in the holder, ensuring your device stays powered up for uninterrupted usage. 
Peak Convenience
Convenience reaches its peak with the Ambrane TwiStand+. Say goodbye to holding your phone for extended periods or struggling to find a comfortable position. This holder offers a hands-free solution, freeing up your hands and making your mobile experience truly effortless. 
Adjustable Height
With its adjustable height feature, the TwiStand+ lets you effortlessly customize the viewing position, providing ergonomic comfort and ensuring an optimal viewing experience for your mobile device. 
Portable Design 
The TwiStand+ boasts a portable design that enhances your convenience. Its foldable and compact structure allows you to effortlessly carry it wherever you go, making it a perfect companion for travel, work, or even outdoor adventures. 
Sunday,Monday,Tuesday,Wednesday,Thursday,Friday,Saturday
January,February,March,April,May,June,July,August,September,October,November,December
Not enough items available. Only [max] left.
Add to Wishlist
Browse Wishlist
Remove Wishlist