PowerPod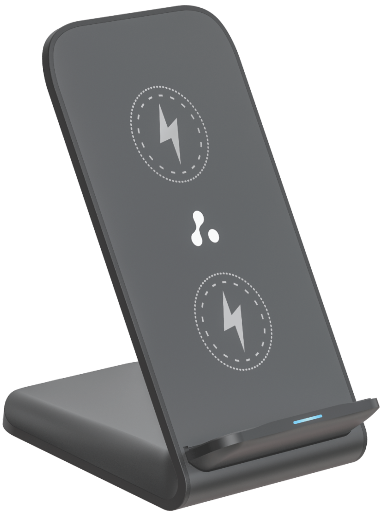 Welcome
Thank you for purchasing the Ambrane PowerPod wireless charger. We recommend you to read the instruction manual carefully before using the product.
Package Contains:
1 N PowerPod Wireless Charger

1 N Charging Cable

1 N Rating Card
Product Overview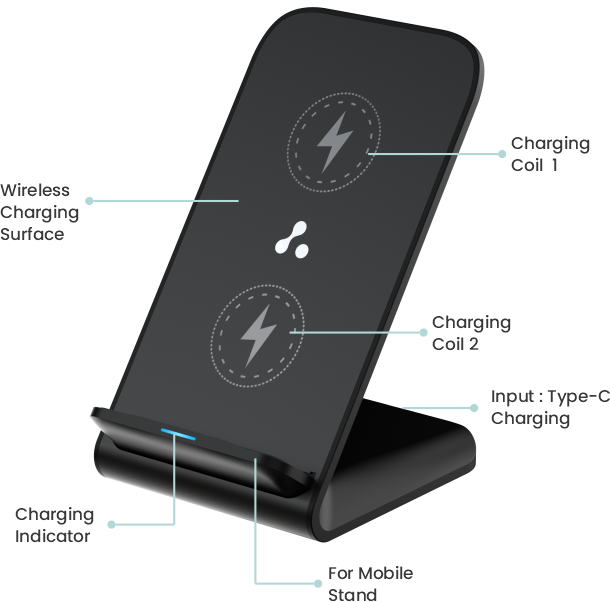 How to Use
Insert the Type-C cable into the Type-C input port of the wireless charger and turn on the power.

Place your Qi-enabled device in the centre of the charging area to start charging.

Your device will begin to charge.
Note: The device can be charged conveniently in either horizontal or vertical orientation according to your preference, as this wireless charger supports both charging orientations.
Charging Indicator
Once connected to a power source, the wireless charger's charging indicator will illuminate.

When the wireless charger is disconnected from the power source, the charging indicator will turn off, indicating the disconnection of power.
Product Specifications
15W Wireless Output

20W Fast Input

Anti-skid Silicone Pad

Sleek & Lightweight

Wide Compatibility

LED Indicator

Vertical & Horizontal Charging Orientation

Multi-Layers of Chipset Protection

Input: DC 5V=2A, 9V=2.22A, 12V=1.67A

Output: 5W, 7.5W, 10W, 15W (Max)

Supports Qi-enabled devices such as smartphones and headsets
Matters Needing Attention
Do not disassemble this product by yourself.

Do not use this product in high temperatures or humid environments, and keep it away from fire and water. Do not expose the wireless charger to extreme temperatures, such as direct sunlight, freezing temperatures, or high humidity, as this may damage the charger or reduce its lifespan.

If the mobile phone does not support the wireless fast charging function, it will automatically adjust to its own charging electrical efficiency. Make sure that the mobile phone is properly aligned with the charging pad to ensure optimal charging performance.

The charging contact surface on the back of the charging equipment shall not contain metal substances, such as iron sheets, rings, metal protective shells, etc. Keep the charging equipment and the mobile phone away from magnetic fields, as they can interfere with the wireless charging process and reduce efficiency.

It is recommended to use a QC 3.0 power adapter to make wireless charging more efficient. Only certified chargers supporting QC3.0 fast charging (

5V=2A, 9V=2.22A, 12V=1.67A

) should be used.

Do not place any foreign objects, such as credit cards, coins, keys,

or magnets,

on the charging pad, as they may cause damage to the charger or the mobile phone, or even pose a safety hazard. Do not use the wireless charger if the mobile phone's battery or charging coil is damaged which may cause overheating, fire, or explosion.

Do not use the wireless charger while driving or operating heavy machinery, as it may

distract you from your task and cause accidents. Keep the wireless charger away from children and pets, as they may accidentally swallow or chew on the charger or its cable, which can cause injury or electric shock.

If you notice any abnormal behaviour, such as smoke, or sparks, stop using the wireless charger

immediately and contact the manufacturer for assistance. Clean the charging pad and the mobile phone's charging coil regularly to remove dust, dirt, or debris that may affect the wireless charging performance. Use a soft, dry cloth or a non-abrasive cleaner to avoid scratching the surface.
Warranty (365 Days)
CUSTOMER CARE
If you face any difficulty in using the product, kindly reach out to our customer care team:-
Phone: +91-1145911111, Email: care@ambraneindia.com
If you are happy with the purchase, kindly follow us and review us on our social media handles @ambraneindia.